Saturday, October 31, 2015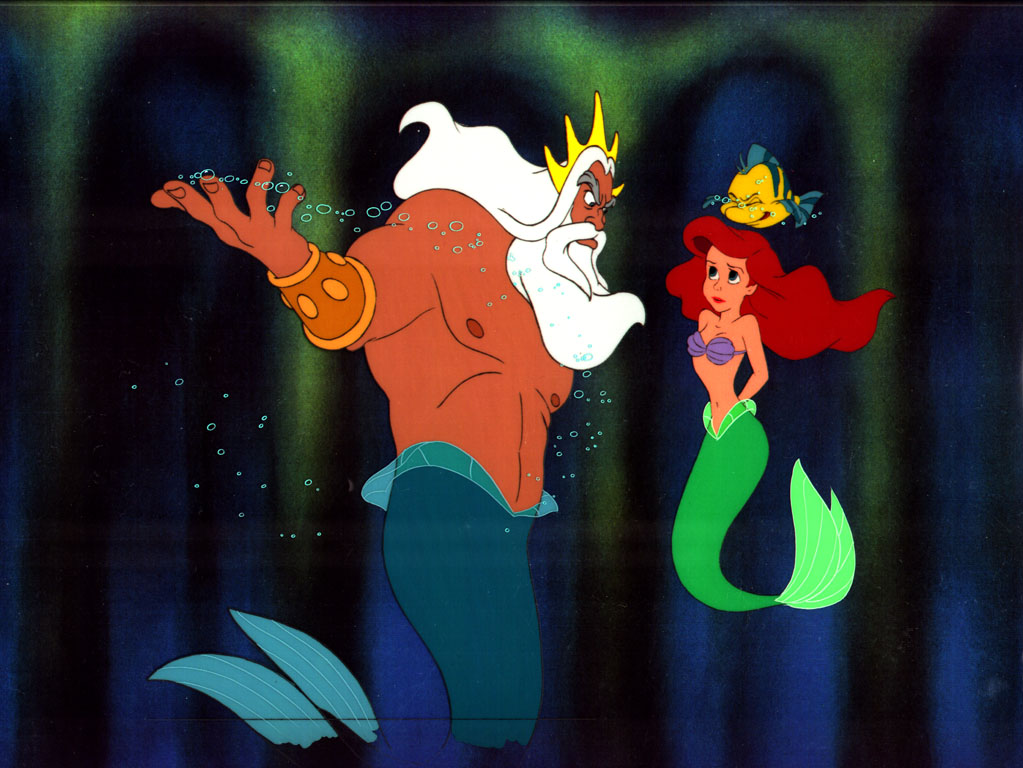 I watched two of the little mermaid movies recently with Cesar, and watching it again for the first time in a very looong time opened up a cool dimension for myself.
Watching it and being a parent - well, watching it and being both someone's child and a parent to a child -- I was paying particular attention to the relationship between the little mermaid and her father while watching.
It was mostly the third movie, which was actually made after the first one but tells the story of the little mermaid when she was even more little that gave me some food for thought.
In this movie they show how Ariel's mother died, and how this broke her father, Triton, his heart. Her parents had a "special connection" which revolved around music and after the mother dies Triton bans all music: no one is allowed to make music or even sing. Then the movie fastforwards to ten years later, where Ariel and her sisters are older. Ariel is an expressive girl but the Kingdom is ruled my monotone routines where any form of fun, laughter or enjoyment set her father off in a fit of rage -- telling her to 'behave'. Stuff happends, and Ariel finds out about some underground music/dancing club and then before your know it so does Triton.
He of course blows up and gets freaking angry -- at which point the little mermaid basically has got "enough" of it and tells him 'what's what'.
I was going "Wow, she's brave!"
And then in the movie something happens.
He gets it.
And he changes his behaviour.
Cause while I was watching the movie and the ten years went by, I was think "Woah, ten years went by and nothing changed? No-one went up to him and questioned what he is doing? And now they are still living the same shitty life?"
And then it dawned to me:
"Shit, I did the exact same thing".
Growing up, my dad had a lot of anger issues and as a result I molded myself to be small and invisible to prevent any type of triggers going off to which my dad could blow. It is quite fascinating, because even the face of Ariel's father and how his face looks when he gets angry is quite similar to that of my own father.
And I did the same as in the movie. I did not once question his anger. I accepted and allowed it. I saw it as 'his right' to be angry and to not be questioned for it.
So instead of 10 years, I lived under the same monotone and miserable conditions for 18 years -- assuming that questioning my dad, or making it a point of telling him that this is not cool would result in my total oblitiration. While all the while, someone questioning him and telling him 'what's what' could have been exactly THE THING that would have snapped him out of it, so we could ALL move on and have some fun in life.
So that one decision, as the acceptance and allowance of anger within another, and so within me = determined my whole life.
Because, what is anger?
Fascinatingly enough, around the same time as watching the movie I went through my own little bout of anger and so had a nice opportunity to really look at what it is all about.
So anger -- when I looked at it, being in it -- I saw that the anger and the intensity of my anger was actually a measurement/reflection to the extent that I wasted potential, that I did not take responsibility for something or things that are in my response ability.
And more I do not actively take responsibility for things in my life, the
angrier
I get.
Then, anger gets used as a safety net. Everyone knows what the presence of anger feels like and how it is sooo very tempting to not 'step into' that net and set it off. And that's exactly what angry people are counting on. They count on you being afraid of this energy they are resonating, so that you would not question them and their actions, so that they can continue not changing, so that they can continue abdicating responsibility.
So while anger is this big WOOOOOOOAAAHHHH energy -- behind it hides a small person who's too afraid to take responsibility and take the steps they need to take to sort out the things in their life that are causing the anger. Meaning -- there's things playing out in their life which are undesirable, BUT which they have the power to change. Anger comes in, when that power is not being used but left to waste and then just goes towards powering their anger.
So what I have been pushing myself to do when I come into contact with someone who is in a state of anger, is to not focus on the energy of anger which is intimidating (and is what I have feared all my life), but to look at what it represents and the underlying point causing it. And what I've realised is that I cannot direct an angry person by focusing and directign the anger, as the anger is not really the point. The point is the responsibility which was abdicated. And if I can put my finger on it and show the person exactly what they abdicated and how -- then the anger simply disappears.
And man, have I really been wondering what my life could have looked like if I had realised this one simple thing.... Aaah the regret
Labels:anger management,angry,bernardpoolman,decision,desteni,eqafe,expression,father,fear,hide,insecure,life,little mermaid,potential,problem,rage,responsibility,teamlife